How did we get in business?
Suhr & Lichty Insurance Agency was founded in 1962 by Donald Suhr. Don was originally partnered with two others prior to becoming Suhr & Lichty Insurance in 1997. He was a true man of the people; always putting the people before profit.
When Don was brought in to the insurance industry, his mission was clear. Partner with the best insurance companies to provide the best coverage at the best price and remain a significant partner in our clients lives by helping them re-establish their lives as quickly and as completely as possible after a loss.
Don proved quickly that our mission was successful by partnering with the best insurance companies the mid-west has to offer along with providing best in class service to his clients. Throughout his early career he was able to achieve numerous achievements and awards in the industry and become a clear voice in both crop insurance and property and casualty insurance. Suhr & Lichty quickly became the area's leading insurance agency in both crop insurance and property and casualty insurance.
We are extremely grateful of the work that Don Suhr and his family have put forth onto the Seward community. He has built a multi-generational insurance agency that is now in it's 3rd generation. Without the support of the Seward community and Don Suhr, Suhr & Lichty Insurance would not be where it is today.
Why do business with Suhr & Lichty Insurance Agency?
Unlike a captive, or direct insurance company who only offers their own proprietary products, our agency is 100% independent of any one company. Many insurance consumers don't fully understand just how important that really is.
When it comes to something as important as insurance, it's imperative that you work with an agency who has an in-depth knowledge of multiple insurance products, companies, and guidelines — not just one.
At the end of the day, what separates one agent from another, is their ability to proactively service their policy holders, and their knowledge of the insurance industry, products, and different situations that may present themselves to their clients.
Independent Agent Vs. The Rest
Here is a quick comparison of the differences between an independent agency like us, and the various other types of companies that are out there: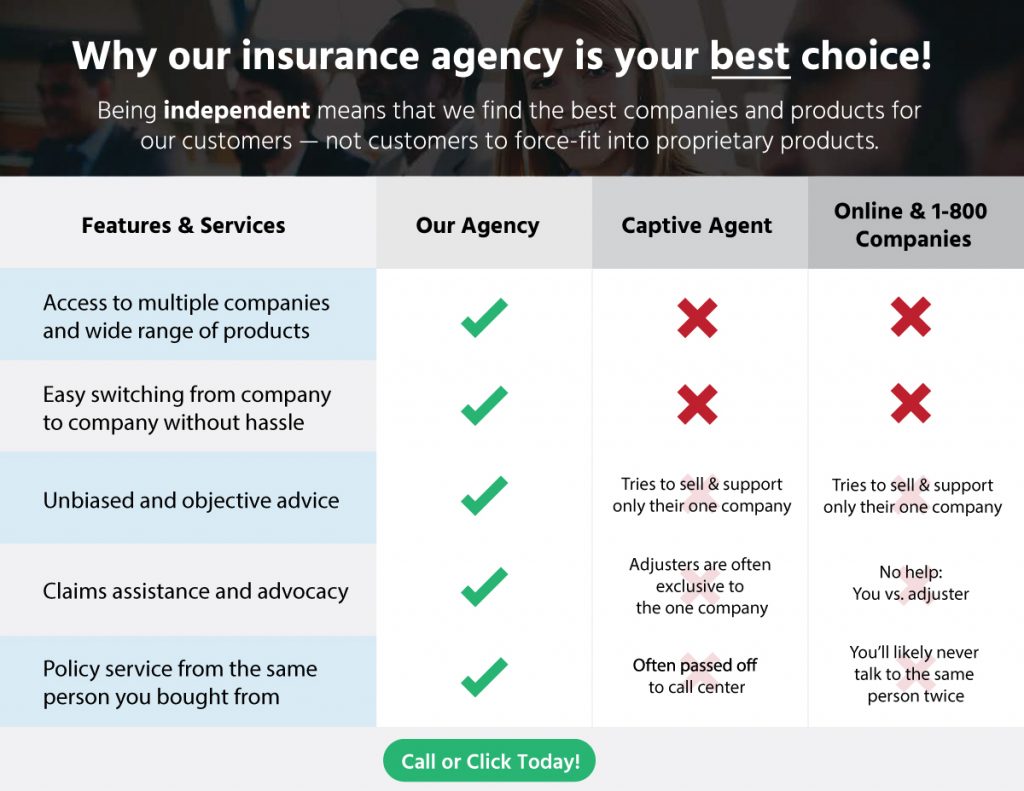 If you'd like to get started with a complimentary quote and/or policy review, we'd be happy to help you any way we can. Simply complete the fields below to get started online in a matter of seconds.
We appreciate the opportunity to help you, and look forward to servicing your insurance needs! Feel free to call us directly if you have more detailed questions.