Medicare and Medicaid may sound similar, they are two different government-sponsored health insurance programs that are available to Americans. Both of these programs can help you pay for health and medical expenses. Medicare primarily covers adults 65 and over, while Medicaid covers low-income individuals and families. Medicaid is jointly funded by the states, so eligibility varies state by state. Medicare eligibility is otherwise standardized across the nation.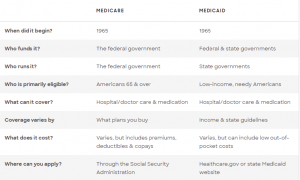 What is Medicare?
Medicare is the federal health insurance program for Americans and permanent U.S citizens age 65 and older. Younger individuals are also eligible for coverage with certain disabilities or illnesses, including Lou Gehrig's diseases and terminal kidney failure. Medicare is primarily thought of as a social health insurance program that is designed to help retired Americans to pay their medical expenses. Medicare is not free but instead funded by taxpayer dollars and their premiums are paid by beneficiaries. If you paid Medicare taxes on your earnings while working, you are automatically eligible for Medicare at age 65.
Medicare comes in four parts. Some parts may require monthly premium payments similar to private health insurance, but the program is not based on financial need.
Part A: Covers hospital care and the costs associated with being in a medical facility. Think of Part A as hospital insurance
Part B: Covers doctors, medical tests, and procedures. This covers anything that is done to you while you are at the hospital. Think of this as doctor insurance
Part C: This is your medicare advantage plan. This is an alternative to traditional Medicare coverage. Part C covers everything Medicare Part A, B, and D cover. Private insurance companies administer Medicare Advantage Plans
Part D: This is your prescription drug coverage that is administered by private insurance companies and you are required to have it unless you have coverage from another source.
What is Medicaid?
Medicaid is a public assistance program that is largely based on financial need. It is a jointly funded federal and state health insurance program for low-income Americans of all ages. Providing that there is a financial need, you likely qualify for Medicaid if you fall into one of the following:
Over the age of 64
Currently Pregnant
Have a child younger than 18
Being blind of disabled
Have a child, parent, or spouse in your household who is blind or disabled.
Medicare covers major medical expenses, but specific services and prescription drug coverage may vary by state. Each state is required by the federal government to cover the following:
inpatient and outpatient hospital services
early and periodic screening, diagnostic and treatment services
Nursing facility care
Home health care
Physician care
Rural health clinic services
Federally qualified health center services
Laboratory tests and X-rays
Family planning services
Nurse Midwife services
Certified pediatric and family nurse practitioner care
Freestanding birth center services
Transportation to medical care
Tobacco cessation counseling for pregnant women
Some optional covered services include prescription drugs, physical therapy, occupational therapy, dental vision or hearing.
Can you get Medicaid if you have Medicare?
Yes, some low-income elderly Americans are eligible to receive funding from both programs. When dual eligible beneficiaries have claims, Medicare pays first and then Medicaid.